SUBARU Robin EX40 průmyslový motor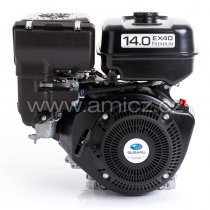 Engines SUBARU EX as first introduced chain driven camshaft OHC for professional use. Seven basic models SUBARU EX from 4.3 HP to 14.0 HP provide maximum efficiency, performance and power with minimum noise, fuel consumption and emissions. Perfect SUBARU EX engine design allows for easy installation and replacement of most existing engines that category.
 
Price on request, contact us
+420 – 602 288 111

Print this product

EX400D00532 D Ø25,0mm, D/AC, CSC, O/S

EX400D50151 DU Ø25,4mm, D/AC, CSC, O/S

EX400D70041 DLA 1/5 28mm, D/AC, CSC, bez O/S, 200W dobí.

EX400D70051 DLA 1/5 28mm, D/AC, CSC, bez O/S a Stop vypínače, 200W dobí., Hi-Neck Tank+Gougle, Puls Nipple
Higher performance SUBARU EX
OHC technology and unique design of the combustion chamber of the engine SUBARU EX lets you use a higher compression ratio. The higher compression ratio improves engine performance and efficiency of the whole machine.
Unique lubrication SUBARU EX
Engines SUBARU EX OHC divorce due to the ingestion of the chain provide unrivaled lubrication of internal engine components, mainly in the upper part ( cam, valves , pins) . Timing chain drives into top of the engine exceed the amount of oil and the exact see the picture, the oil is conveyed exactly to the necessary components. This lubrication reduces engine wear and thereby increases engine life.
Quieter Engine
OHC technology reduces the number of moving parts of 30% compared wiring OHV. This noise reduction is particularly evident at high speeds.
Easier starting
Camshaft OHC technology, users can get easier to start using up to 40% less power.
Lower emissions
As all car producers left OHV, SV and other and moved to OHC technology, as well as engines SUBARU EX OHC thanks to radically reduce the emissions of exhaust gases. SUBARU EX engines easy reach of all emission standards and regulations.
Perfect construction
SUBARU EX motors are primarily designed for high loads in professional machines and mechanization. The engine block and base components are designed so that even at maximum load occurred to full cooling and longer engine life (eg. Non-Stop pump operation during floods , etc.). Cooling air flow is cleverly driven around the engine block to deflect heat and oil filling and thereby prevent damage to internal engine components.
| Parameter name | Parameter value | Scale |
| --- | --- | --- |
| Engine type | OHC, air-cooled, single cylinder, horizontal shaft output | |
| Bore x Stroke | 89 x 65 | mm |
| Piston displacement | 404 | ml (ccm) |
| Max. output | 10,3 (14,0) / 3600 | kW (HP) / rpm |
| Output | 7,0 (9,5) / 3600 | kW (HP) / rpm |
| Max. torque | 27,0 / 2400 | Nm / rpm |
| Direction of rotation | Counter clockwise as viewd from PTO shaft side | |
| Fuel | Automobil unleaded gasoline (Natural 95) | |
| Carburetor | Float | |
| Fuel tank capacity | 7,0 | liter |
| Oil sensor | Yes | |
| Engine oil | SAE 10W-30, SAE 10W-40 | |
| Engine oil capacity | 1,2 | liter |
| Lubrication | Mechanical spray + timing chain | |
| Ignition System | Transistorised | |
| Spark Plug | NGK BR6HS | |
| Starter | Recoil | |
| Speed control settings | Hand, CSC control cable, fix. high speed (depending on use) | |
| Exhaust | Deflector with spark arrestor | |
| Governor | Centrifugal flyweight | |
| Air cleaner type (additional option) | DUAL (prefilter, chymney, foam insert.) | |
| Dry weight | 33,0 | kg |
| Dimensions (length x width x height) | 389 x 450 x 443 | mm |
| Charging coil (additional option) | (12V - 15W, 40W or 200W) | |
| Eletrical starter (additional option) | (Yes) | |
| Fuel tank (additional option) | (Fuel guage) | |
| Additional fuel tank (additional option) | 16,0 | |
| GenSets Specification | Possibility standard delivery | |
Abbreviations
| | |
| --- | --- |
| D | Cylindrical shaft Metric |
| DU | Cylindrical shaft Inch |
| DLA | Short Taper shaft |
| DH | Long Tapered shaft (generators) |
| D/AC | Dual air filtration (foam + paper filter) |
| DM | Production China - engine is not constructed for industrial-profi load |
| CSC | Control acceleration string |
| O/S | Sensor oil level (automatic engine shut-off) |
| Ex | Exhaust with reduced noise |
| ES | Electric Starter |
Accessories and related products